Home
Details

Category: News
Published on Friday, 06 March 2015 20:39
Written by paritos
Hits: 148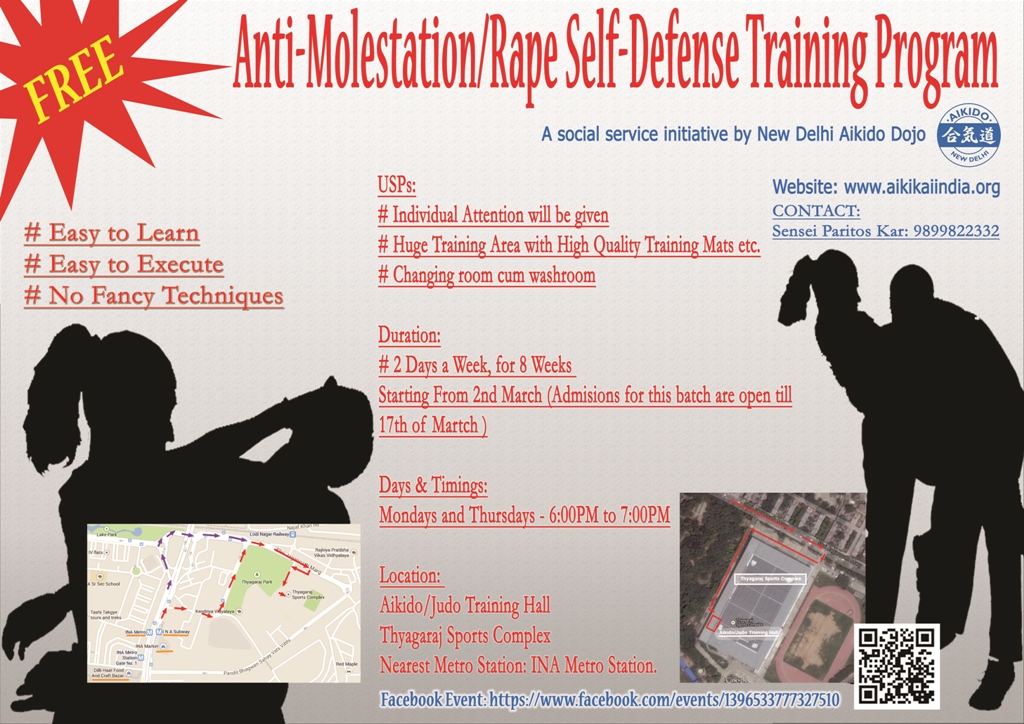 We all know that Delhi has become the Rape Capital of the Country, in order to counter this ever growing threat, New Delhi Aikido Dojo is happy to launch its Latest "Anti-Molestation/Rape Self-Defense Training Program" exclusively for Women. This program is designed specially by Sensei Paritos Kar and has been made FREE
as a part of New Delhi Aikido Dojo's Social Service initiative.
Some Advantages :
# Easy to Learn
# Easy to Execute
# No Fancy Techniques
USPs:
# Individual Attention will be given
# Huge Training Area with High Quality Training Mats etc.
# Changing room cum washroom
Duration:
# 2 Days a Week, for 8 Weeks
Starting From 2nd March
Days & Timings:
Mondays and Thursdays - 6:00PM to 7:00PM
Recommended Dress Code:
# Reasonably Loose Fitting Track Suit or T-Shirt & Pyjama or Suit
# Since training is on mats no footwear is needed
Cost:
100% Free
CONTACT:
Sensei Paritos Kar: 9899822332
Michael Rajchandra: 9999975041
Location:
Aikido/Judo Training Hall
Thyagaraj Sports Complex
Nearest Metro Station: INA Metro Station.
Directions:
Once you enter the Main Gate please ask the Guards for the the Aikido/Judo Training Hall.
(You have to walk Anti Clockwise around the Building towards backside of the building where you can spot the training center with Glass walls)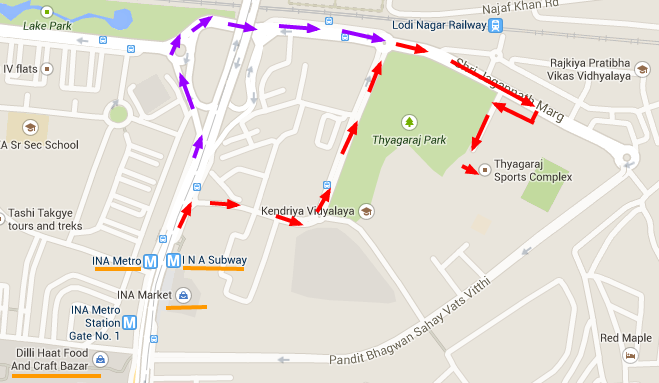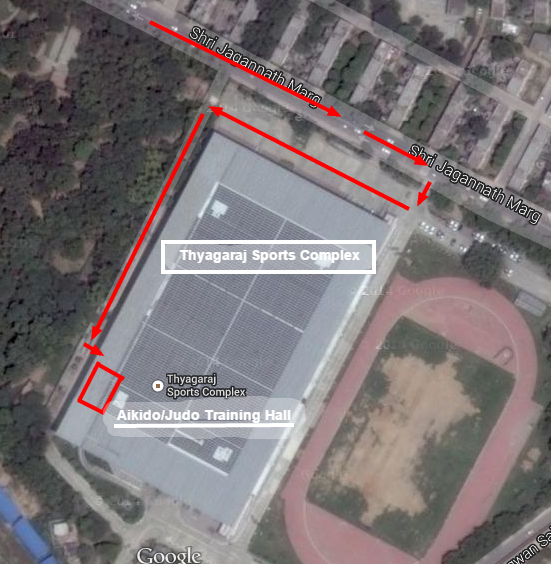 For More Information: Please visit our FB Event page at https://www.facebook.com/events/1396533777327510/
NOTE: Please Select "Going" option on this FB Event page to confirm participation. If you are not sure please select "May Be" option.


Details

Category: News
Published on Tuesday, 23 December 2014 07:36
Written by paritos
Hits: 261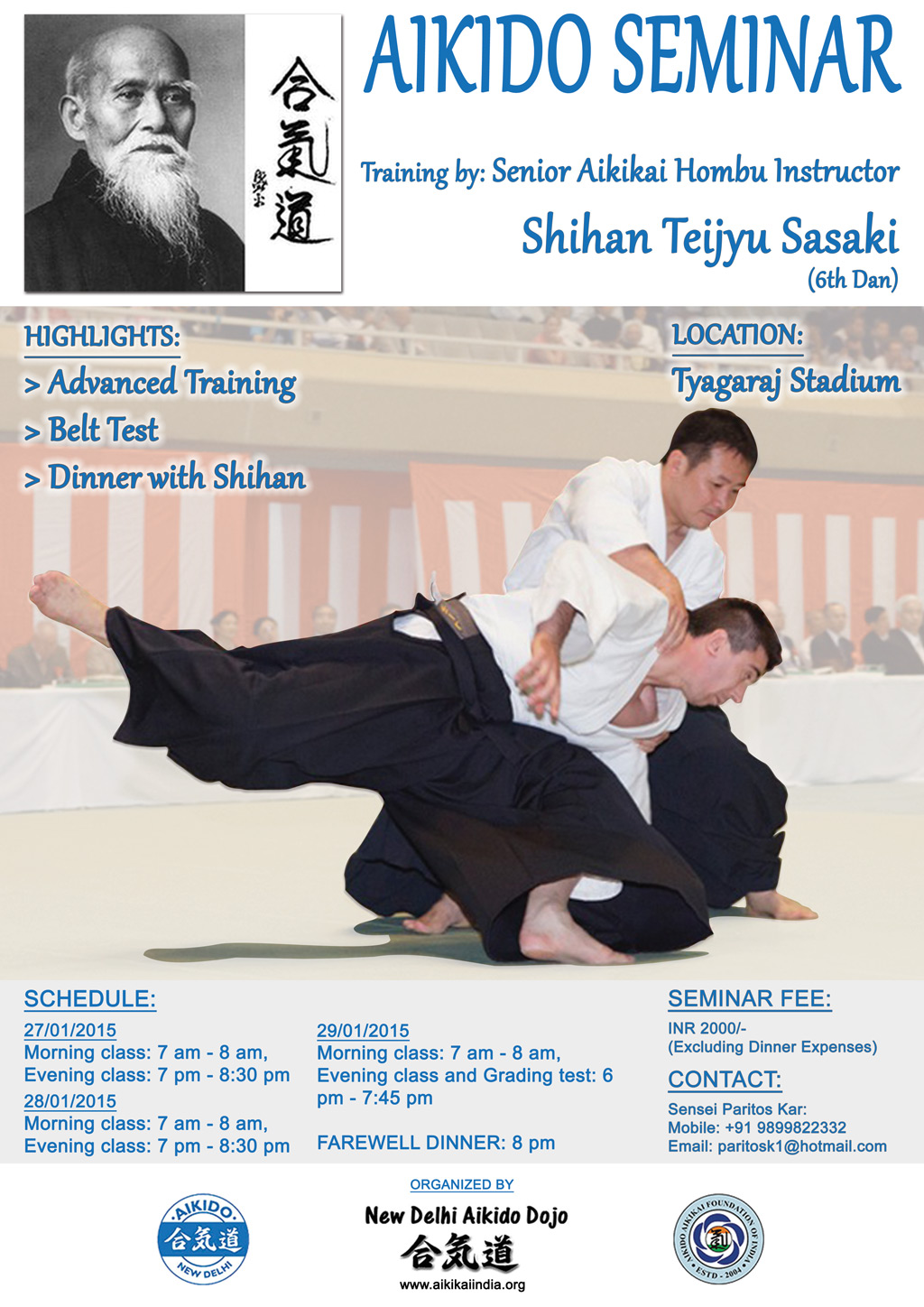 New Delhi Aikido Dojo is happy to announce that we are Organizing our next Exclusive Aikido Seminar from the 27th to the 29th of January, 2015.

The Seminar will be conducted by Aikikai Hombu Instructor Shihan Teijyu Sasaki (6th Dan)
The three day seminar on advanced Aikido Techniques will be followed by Grading Tests to evaluate the Indian students practicing Aikido.

On the last day we will be organizing an exclusive Dinner with the Master.

Seminar Fee - INR 2000 Only (Does Not Include the Dinner Expenses which is extra)

Schedule:
27/01/2015
Morning class: 7 am - 8 am,
Evening class: 7 pm - 8:30 pm

28/01/2015
Morning class: 7 am - 8 am,
Evening class: 7 pm - 8:30 pm

29/01/2015
Morning class: 7 am - 8 am,
Evening class and Grading test: 6 pm - 7:45 pm
Farewell Dinner: 8 pm

All those who are interested to participate may please contact me on +91 9899822332

Paritos Kar
Dojo Cho
Details

Category: Dojo News
Published on Wednesday, 30 April 2014 04:12
Written by paritos
Hits: 662
Aikido: the art of fighting without fighting
Indulekha Aravind
April 5, 2014 Last Updated at 00:15 IST (Business Standard)
In his interview with the Hindi daily Dainik Bhaskar, Congress Vice-president Rahul Gandhi mentioned he loved swimming and running, and also did meditation and aikido. This last revelation might have left a few scratching their heads, or reaching out for Google, and with good reason. A Japanese martial art that originated in the early 20th century, aikido has not attracted the kind of following karate, judo or taekwondo has in India.

"It takes a long time to master aikido and people prefer martial arts where you can master some kicks and punches in a few classes," says Paritos Kar, who has been teaching aikido in Delhi for 10 years and whose students include the Gandhi scion. Kar spent 10 years in Japan learning the martial art, and another few teaching it in Russia, before returning to India.

Kar says aikido is different because though it is used in self-defence, it is a non-aggressive martial art. "There is no winner or loser, and there are no tournaments. The objective is not to beat anybody." It is not a sport, but a way of life, he adds.

The Aikido World Headquarters website says the goal of aikido training "is not perfection of a step or skill, but rather improving one's character according to the rules of nature. One becomes 'resilient' inside yet this strength is expressed softly." If that sounds a bit esoteric, it goes on to add that "a pure budo (or way of martial arts) comes with the unification of technique, body and heart" and that its manifestation depends on the practitioner's heart. The aim of aikido, it says, "is a kindness of heart expressed through this spirit of budo". Not exactly what one might expect to read on a martial arts website but the idea of peace and harmony is central to the philosophy of aikido, as paradoxical as it might sound.

The martial art was developed by Morihei Ueshiba, referred to as O Sensei, in pre-war Japan, though it is said to have been consolidated in its present form in the 1940s, with the word "aikido" being used first in 1942, according to a website dedicated to the history of aikido. After Ueshiba's death, many different style of aikido developed. Kar follows aikikai, the method helmed by O Sensei's grandson, Moriteru Ueshiba. There are other schools all over the country teaching different styles, including in smaller cities like Varanasi, while the aikikai style is taught in Mumbai and Chennai, apart from the capital.

Coming to the more practical aspects, aikido focuses on developing power, irrespective of actual physical strength. Practitioners are taught to use the energy of the attacker to control them, rather than punching or kicking them. It's a martial art that can be learnt by anybody, but to practice, one needs a partner.

There are different levels, and it would take a beginner at least five years to reach the first black belt, before which there are a couple of preliminary exams to be cleared. The final level is ninth and only a few people in the world are said to have reached it in the aikikai style. Kar himself is at the fifth level, while Rahul Gandhi is reported to have a first-level black belt. Courses begin at Rs 2,000 for 12 classes a month.

Though there are three centres in Delhi, growth has been at a snail's pace, say Kar. "There aren't too many people learning aikido because it requires a lot of patience. And in Delhi people don't have patience," he says bluntly.
Details

Category: Dojo News
Published on Wednesday, 18 April 2012 20:14
Written by paritos
Hits: 1608
Greetings!
New Delhi Dojo has moved.
Our new addresses are:
For Morning Classes:
56, Anand Lok,3rd Floor, On Khelgaon Road,Opposite Gargi College,New Delhi.
For Evening Classes:
Thyagaraj Sports Complex.Shri Ganganath Marg, I N A Colony
Near INA Metro Station
New Delhi-110003
Paritos Kar
Dojo Cho